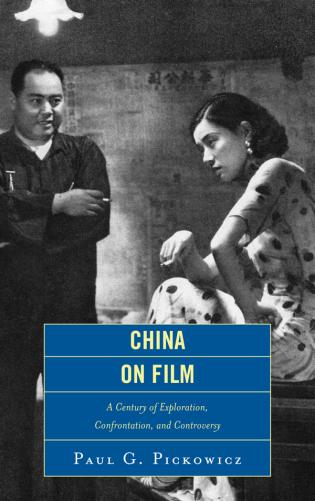 China on Film: A Century of Exploration, Confrontation, and Controversy
Paul G. Pickowicz
Rowman & Littlefield
376 pages, 2011
ISBN: 978-1-4422-1179-7
Publisher website: https://rowman.com/ISBN/9781442211797/China-on-Film-A-Century-of-Exploration-Confrontation-and-Controversy
Publisher's description:
Leading scholar Paul G. Pickowicz traces the dynamic history of Chinese filmmaking and discusses its course of development from the early days to the present. Moving decade by decade, he explores such key themes as the ever-shifting definitions of modern marriage in 1920s silent features, East-West cultural conflict in the movies of the 1930s, the strong appeal of the powerful melodramatic mode of the 1930s and 1940s, the polarizing political controversies surrounding Chinese filmmaking under the Japanese occupation of Shanghai in the 1940s, and the critical role of cinema during the bloody civil war of the late 1940s. Pickowicz then considers the challenging Mao years, including chapters on legendary screen personalities who tried but failed to adjust to the new socialist order in the 1950s, celebrities who made the sort of artistic and political accommodations that would keep them in the spotlight in the post-revolutionary era, and insider film professionals of the early 1960s who actively resisted the most extreme forms of Maoist cultural production. The book concludes with explorations of the highly cathartic films of the early post-Mao era, edgy postsocialist movies that appeared on the eve of the Tiananmen demonstrations of 1989, the relevance of the Eastern European "velvet prison" cultural production model, and the rise of underground and independent filmmaking beginning in the 1990s.
Throughout its long history of film production, China has been embroiled in a seemingly unending series of wars, revolutions, and jarring social transformations. Despite daunting censorship obstacles, Chinese filmmakers have found ingenious ways of taking political stands and weighing in—for better or worse—on the most explosive social, cultural, and economic issues of the day. Exploring the often gut-wrenching controversies generated by their work, Pickowicz offers a unique and perceptive window on Chinese culture and society.