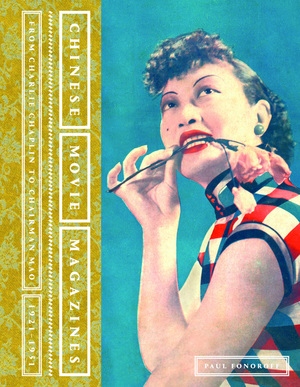 Chinese Movie Magazines: From Charlie Chaplin to Chairman Mao, 1921-1951
by Paul Fonoroff
University of California Press
288 pages, 500 color illustrations
ISBN: 9780520300484
Publisher website: https://www.ucpress.edu/book/9780520300484/chinese-movie-magazines
Publisher's description:
Showcasing an exotic, eclectic, and rare array of covers from more than five hundred movie publications from a glamorous bygone age, Chinese Movie Magazines sheds fresh light on China's film industry during a transformative period of its history. Expertly curated by collector and Chinese cinema specialist Paul Fonoroff, this volume provides insightful commentary relating the magazines to the times in which they were created, embracing everything from cinematic trends to politics and world events, along with gossip, fashion, and pop culture.
The cover designs reflected the diverse contents of the publications, ranging from sophisticated Art Deco drawings by acclaimed artists to glamorous photos of top Chinese and Hollywood celebrities, including Ruan Lingyu, Butterfly Wu, Ingrid Bergman, and Shirley Temple. Organized thematically within a chronological structure, this visually extraordinary volume includes many rare illustrations from the Paul Kendel Fonoroff Collection in Berkeley's C.V. Starr East Asian Library, the largest collection of Eastern movie memorabilia outside China.