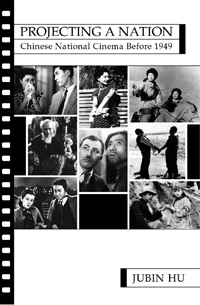 Projecting a Nation: Chinese National Cinema Before 1949
by Jubin Hu
Hong Kong University Press
272 pages, 2003
ISBN: 978-962-209-610-3
Publisher website: https://hkupress.hku.hk/pro/1157.php
Publisher's description:
This is the first major work on pre-1949 Chinese cinema in English. As such, it represents a major contribution to existing discussions of both Chinese cinema and national cinema, and is an indispensible basic resource for scholars interested in Chinese film history. The book analyses the wide variety of conceptions of "Chinese national cinema" between the early years of the 20th century and 1949, and contrasts these to conceptions of national cinema in Europe and China.
After years of exhausting primary historical research, the author has been able to bring to light sources hitherto not widely available. The author argues that questions and debates about the status and meaning of the "national" in "Chinese national cinema" are central to any consideration of cinema during this period, and addresses the issue of Chinese nationalism as part of a complex history of cinema within the early modern Chinese nation.