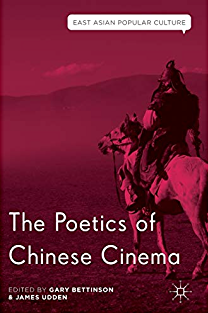 The Poetics of Chinese Cinema
edited by Gary Bettinson and James Udden
Palgrave Macmillan
227 pages, 2 b/w illustrations, 12 illustrations in color, 2016
ISBN: 978-1-137-55309-6
Publisher website: https://www.palgrave.com/gp/book/9781137566089
Publisher's description:
This book examines the aesthetic qualities of particular Chinese-language films and the rich artistic traditions from which they spring. It brings together leading experts in the field, and encompasses detailed and wide-ranging case studies of films such as Hero, House of Flying Daggers, Spring in a Small Town, 24 City, and The Grandmaster, and filmmakers including Hou Hsiao-hsien, Jia Zhangke, Chen Kaige, Fei Mu, Zhang Yimou, Johnnie To, and Wong Kar-wai. By illuminating the form and style of Chinese films from across cinema history, The Poetics of Chinese Cinema testifies to the artistic value and uniqueness of Chinese-language filmmaking.